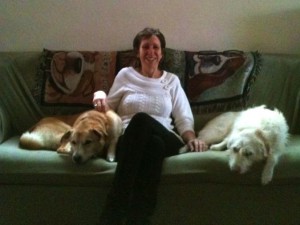 Cheryl O.- Vice President, Experienced Pet Care Specialist
Cheryl is a lifetime city dweller who currently lives in St. Louis Hills with her husband Kevin, and dogs, Paddy and Wesley.  Paddy is a four year old yellow lab mix from the Humane Society.  She is a very mischievous alpha dog who would play catch 24 hours a day if someone else would and she always wants to be with her big brother, Wesley.  Wesley is a four year old terrier mix from Stray Rescue.  He just wants to chill out and spend time next to his adopted "Mom and Dad", and wishes his big sister would leave him alone occasionally.
Cheryl has owned pets her entire life, including a special needs dog.  She understands that pets are part of the family (hers are) and how important it is to their owners that they are well taken care of.  She wishes all animals had loving homes and in fact, brought back an abandoned puppy that she found while vacationing in Kentucky, locating a wonderful home for her.  Ellie is now a happy little girl who participates in agility competitions.
Cheryl recently retired from a long career in financial management and she is very, very excited about her next career in pet-sitting, her lifelong passion.