Founder, CEO, RVT, and Experienced Pet Sitter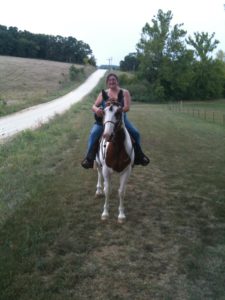 Alicia is a Missouri native, growing up and spending most of her life in the St. Louis area.  She has had the opportunity to have many different types of animal companions in her life (such as hedgehogs, dogs, cats, rabbits, a potbelly pig, and horses – just to name a few).  Alicia's experience with her own personal animals range from showing her horses and rabbits to working as a rescue foster mom and participating with animal-assisted therapy groups.
Since animals have constantly been a primary focus in Alicia's life, she has mainly pursued opportunities in her life that have allowed her to be involved with them.   She enjoys country living and is the proud mother of a beautiful little girl and several animal companions.  Currently Alicia and her daughter reside with a very opinionated one-eyed Jack Russell (Riley) as well as two sweet loveable cats (Axle & Sheldon).  They are also fortunate enough to share a very special quarter horse named Nestle.
Alicia started STL Critters and Creatures Care LLC to continue providing exceptional care to families in the St. Louis area with the integrity and outstanding care that they deserve.
With over 15 years pet-sitting under her belt combined with over 10 years veterinary experience and knowledge, Alicia is confident in providing your pets with the same care and compassion she provides her own.